Why was Nepal badly prepared for the earthquake on 25 April 2015?
The earthquake on 25 April 2015 was an extreme event that people – both experts and Nepal's inhabitants themselves – had been expecting for a long time, yet no one was adequately prepared for it. For geological reasons, more earthquakes are to be expected in Nepal in the future (over 100 aftershocks, some of which were very strong, were registered after the main earthquake on 25 April 2015). As they cannot be predicted, establishing efficient measures to prevent damage, as well as other precautionary measures – developing emergency plans and acquiring resources in particular – is crucial. It is also just as important that preventative measures and disaster relief are linked to long-term, sustainable social development that focuses on the welfare of the population. Our work on risks and disasters shows that this is still happening far too rarely, not only in Nepal but also in the rest of the world. In the World Disasters Report 2014 by the International Federation of Red Cross and Red Crescent Societies, we emphasised the fact that up to now far too little use has been made of the experiences and everyday lives of those affected on the ground when providing aid after disasters, and that disasters are particularly severe when people are already living in vulnerable conditions, are politically disenfranchised and have no room for manoeuvre.
Risk factors in Nepalese society
In general, socio-cultural and politico-economical factors affect a population's risk exposure/vulnerability and its capacity to cope with natural disasters. In Nepal the low standard of living in general (Nepal is still one of the poorest and least developed countries in the world; more than 50 percent of its population lives below the poverty line of 1.25 US dollars per day), sustained high population growth and migration caused by necessity (uncontrolled migration from rural to urban areas in the Kathmandu Valley; around 3 million male workers migrate to other countries), as well as the social exclusion of certain population groups, are important factors. All of this leads to a low capacity to cope with disasters and makes the people in Nepal particularly susceptible to the negative consequences of natural events. Poverty and social deprivation therefore have to be viewed as serious obstacles for the development of the ability to adapt to dangers and cope with damage. Furthermore, following ten years of armed conflict between Maoist rebels and the government, Nepal is undergoing a profound and complex democratisation process that is characterised by extreme political instability, inefficient political institutions, corruption and abuses of power.
The relationship between politics and disasters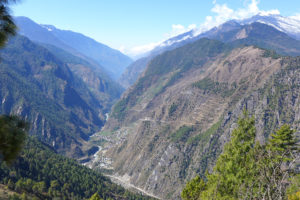 Nepal is a multiethnic, multilingual and multicultural country with over 120 ethnic groups and spoken languages. This cultural diversity is also a reflection of an incredibly fragmented society that is characterised by massive socio-economic inequality. Over centuries, the exclusion policies of the Hindu elite – who migrated to the region in the 11th to 13th centuries and united numerous ancient Nepalese tribal homelands in one political and administrative state – have been extended to all social, economic, political and spatial domains for centuries. This has led to certain ethnic groups being excluded, marginalised and classed as lower-class citizens. These historically marginalised population groups are still systematically excluded from participating in developmental processes today. This forms the central argument in the current discourses on injustice which were a significant factor in the outbreak of the civil war in 1996 that went on for ten years. The country is experiencing a profound process of political and social transformation. However, the Nepalese state exists in a kind of power vacuum, as there is currently no constitution and no agreement on what its federal structure should look like. There have been no elected local governments since 2002. All of this has severely weakened the population's trust in the country's young democracy. Criticism of the government's helplessness and lack of co-ordination began after the first earthquake on 25 April. In addition, there is a real danger that existing inequalities could become more entrenched or even be made worse during the rebuilding process, for example if aid measures do not benefit all those affected equally. As is evident now in the media, the rebuilding of tourism infrastructure, which includes the UNESCO World Heritage Site of the Kathmandu Valley, is being prioritised. This is an industrial sector that only benefits a small number of groups. The rebuilding process in Nepal therefore has the potential to cause a certain amount of conflict and could be dangerous for the country's democratisation process.
A culture of intervention and culture as the key to disaster prevention
Ultimately, therefore, the culture of disaster relief must change. Short-term emergency aid must be followed by a sustainable support process which must not merely focus on the reconstruction of 'visible' industrial sectors like the tourism industry but also work towards achieving political and economic participation for the entire population. The everyday skills of those affected can most certainly be built upon in order to do this. People who live in regions where the population has had to live with dangers and risks for centuries have developed ways of dealing with them. In areas prone to earthquakes these include traditional building methods (houses that can withstand vibration effectively) and land use systems that make it possible to avoid areas that are particularly at risk. These everyday practices must be strengthened and incorporated into long-term disaster prevention measures. This requires the beliefs and practices of the people there to be treated sensitively and with respect, and also requires a great deal of time and the will to fight exclusion and discrimination.
Danger in Nepal not over after the earthquake
In addition to primary damage, earthquakes can trigger secondary natural events such as landslides, rockfalls, avalanches or glacial lake outburst floods. A team of international experts which includes members of NASA and the British Geological Survey is currently using data from high-resolution remote sensing to identify and localise such secondary events. Landslides can block valleys and create dams in rivers, causing dangerous lakes to form. This can lead to settlements further up the river being flooded and can cause severe flooding downstream if a lake breaches the dam or overflows. In such an event, the infrastructure required to distribute aid would be damaged further or destroyed, and people in the remote valleys of the high Himalayas would remain cut off from the help that they desperately need. The experts are currently monitoring six large lakes that have formed as a result of landslides. Several glacial lakes – lakes which form behind the terminal moraine as a glacier melts – are also being monitored. The moraine dams may have been weakened by the earthquake, increasing the risk of a glacial lake outburst flood. In addition, Nepal's monsoon season, a period which causes countless landslides and severe flooding every year, is now beginning. This will increase the existing risks and lead to more victims and further damage.
Kathmandu: a risk hotspot
There is evidence of many severe earthquakes in the Kathmandu Valley in historical records. Before 2015, the most destructive of these was the three-minute earthquake measuring 8.4 on the Richter scale that shook the Kathmandu Valley on 15 January 1934. If a similar event were to take place today the consequences would most likely be even more catastrophic than those of the earthquake on 25 April, as the Kathmandu Valley now has an estimated population of 2.5 million, the structural density of buildings is increasing massively – and is largely uncontrolled – and building regulations, in particular those which apply to earthquake resistant building methods, are ignored. The fire brigade and civil protection authorities have neither the equipment nor the staff required to implement the necessary measures in the event of such a disaster (and are often absent in rural regions). Earthquake experts consider Kathmandu one of the most dangerous places in the world. Simulations of the potential consequences of a severe earthquake calculate a theoretical death toll of more than 100,000 in the Kathmandu Valley alone. The geological make-up of the valley floor, which consists of 500-metre-thick, unconsolidated sediments of sand and mud in places, is particularly precarious. Not only can this increase the vibration in the case of an earthquake but it can also lead to what is known as soil liquefaction, which causes buildings and entire infrastructures to sink. In the worst case this could lead to the country's only international airport – which has proven to be absolutely crucial this time – being destroyed, meaning that it could no longer be used for disaster relief.
What must be done better in the future?
Until now, due to a lack of action plans, natural hazard risk management has been limited to temporary rescue and relief operations, as in the case of the most recent earthquake. At the same time, local, often marginalised population groups are forced to rely on their social networks in the form of help from their neighbours or simply help themselves. The use of preventative technology is often limited to economically significant infrastructure. By contrast, prevention of and preparation for natural hazards are entirely new concepts that are only being implemented hesitantly in the form of projects that are restricted to certain areas – mainly the densely populated Kathmandu Valley. Although Nepal has various laws, regulations and plans concerning natural hazard risk management, they are rarely implemented in a concrete and, above all, co-ordinated way – if indeed they are implemented at all. Unless these problems are dealt with and disaster relief is made a part of the sustainable, fair development co-operation work described above, it is only a matter of time before the next humanitarian crisis occurs.
Dr. Alexandra Titz, Institute of Geography, specialises in geographical development research focusing on the relationship between people and the environment and social vulnerability in places such as Nepal.
Prof. Dr. Fred Krüger, Institute of Geography, studies the relationships between culture, risk and methods of dealing with disasters.
Further information:
Dr. Alexandra Titz
Phone: +49 9131 8522011
alexandra.titz@fau.de
Prof. Dr. Fred Krüger
Phone: +49 9131 8522641
fred.krueger@fau.de