Simply a question of nerves
Kristian Franze has held a Humboldt Professorship at FAU since August 2020. The physicist and veterinarian performs research into which mechanical forces influence growth in nerve cells.
Our nervous system is as complex as it is fascinating. Without nerve cells, we wouldn't know if it's dark or light, hot or cold. We wouldn't be able to touch anything or feel if someone is touching us. We wouldn't be able to smell or taste anything and would have no idea that we have an upset stomach or that we have cut ourselves.
What makes nerve cells grow?
Kristian Franze researches nerve cells, or more precisely the mechanisms that control their growth. 'The discussion about which impulses, such as chemical, electrical or physical, are responsible for cell growth began over a hundred years ago,' he says. 'Research during the past few decades has focused on the biochemical processes and mechanical forces have been neglected to a certain extent.' Professor Franze wants to change this. His work about the interaction of mechanics and the nervous system is regarded as ground-breaking. In 2020, he was awarded a Humboldt Professorship, Germany's most prestigious research prize, for his work. He took up the professorship in Erlangen in August and he is director of the Institute of Medical Physics and Microtissue Engineering at FAU and one of the directors of the newly-established Max Planck Centre for Physics and Medicine (MPZPM) currently under construction and due to open at the end of 2023.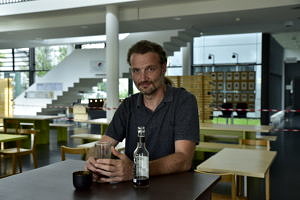 A eureka moment: Tissue mechanics has a decisive influence
His academic background is extremely varied, which Franze says benefits the interdisciplinary nature of his research. Originally from Halle, he grew up in Dessau and studied veterinary medicine in Leipzig. He soon realised during several internships that he wouldn't be happy as a vet. 'In some cases, I had to take more care of the owners than the animals,' he says. 'It wasn't how I had imagined the job would be.' Franze changed subjects to physics and gained a doctoral degree in the mechanics of the brain. With a scholarship from the Humboldt Foundation, he was a postdoctoral researcher at the University of Cambridge from 2007 to 2011, briefly returning to Leipzig University before starting with his own research group at the Department of Physiology, Development and Neuroscience in Cambridge in 2011.
Kristian Franze is interested in how nerve cells know in which direction they should grow, which cells they should join and where they should stop growing. With his working group in Cambridge, Franze researched so-called axons from tadpoles, which connect the cells of the retina with the brain. When they grow, these axons change direction at a certain point in the brain and the working group discovered that the rigidity of the surrounding tissue at this point is considerably higher than in the remaining areas and that this increased rigidity is required for normal nerve cell growth. 'That was a eureka moment for us and really spurred us on to carry out more research,' says Prof. Franze. This was the first time it was proven how the mechanical properties of tissue have a considerable influence on how quickly and in which direction nerve cells grow.
Research into incurable diseases
At FAU and MPZPM, Franze hopes to continue this research with an interdisciplinary team of experts from medicine, biology, physics and engineering. The researchers cultivate nerve cells on tissue with varying rigidity and test various means of influencing this tissue using medication and chemicals and also genetic engineering. 'If we successfully stimulate or stop neuronal growth by manipulating the mechanics of tissue, we could potentially contribute to the treatment of diseases that currently have no cure,' explains Kristian Franze. The working group is turning its attention to spinal cord injuries. In contrast to fish or tadpoles, mammals cannot regenerate damaged nerve fibres in the central nervous system. The team hopes to find out why tadpoles can regenerate these nerve cells easily while adult animals lose this ability, and whether the basic mechanisms required can be transferred to mammals or even humans. Kristian Franze is optimistic: 'We're carrying out fundamental research and have already made some quite promising discoveries. Our work could perhaps help in finding a cure for paraplegia one day.'
German bread and Franconian beer
FAU is not unfamiliar territory for Kristian Franze, he already knows some researchers who work at the university. 'FAU is a visionary university and I am really impressed by the enthusiasm for new research topics here.' Franze has moved with his wife and two sons, who are five and eight, to the area outside Erlangen. 'We feel very much at home in a rural environment, we're not city people,' says Kristian Franze. 'We've got a bakery that sells good bread right on our doorstep – that wasn't so easy to find in the UK.' And there's something else Franze likes about Franconia – the beer. 'I really enjoyed my 13 years in Cambridge, but I could never get used to the ale.'
---
alexander – Aktuelles aus der FAU
Die aktuelle Ausgabe richtet den Focus auf die Künstliche Intelligenz: Klangmuster in der Musik werden mittels KI identifiziert, KI kommt in der personalisierten Medizin zum Einsatz und KI verbessert Prozesse in Unternehmen. Vorgestellt wird auch der neue Bachelor-Studiengang Data Science und ein Start-up, welches mit KI einen Sprachassistenten entwickelt.
FAU-Magazin alexander Nr. 114 (Oktober 2020)
Einzelne Exemplare liegen an der FAU aus. Gerne können Sie sich das Magazin auch kostenlos nach Hause oder an den Arbeitsplatz schicken lassen. Bitte füllen Sie dafür unser Abo-Formular aus.
Ausgewählte Beiträge können Sie auch online lesen in unserem Blog "FAU aktuell".