Erlangen: a small city with a lot to offer
Why it's great to live in Erlangen
Julia lives in Erlangen and is studying for a Master's degree in book studies.
For studying…
…I go to my room or to the University library. As I mainly have to write written assignments, I tend to go to my room more often.
When the weather is good…
…I'll definitely be in the Schlossgarten, with my rug, a frisbee, some beer and a few friends. If I need to cool down, I like to go to the Dechsendorfer Weiher.
And if it rains…
…I stay in my flat or go to one of the many nice little cafés or coffee shops.
I especially like Erlangen because…
…the town is a nice size and has good connections to Nuremberg and Bamberg. If you're fed up of always going to the same café, you can easily get there.
If I go for a trip in the region, I go to…
…Bamberg, Nuremberg of course, the Dechsendorfer Weiher, the Fichtelgebirge for skiing or the Franconian Switzerland region for hiking.
When I go out in the evenings…
…I go to a pub in Erlangen to play pool or darts.
You can meet nice people…
…at University sports, at the "Berg", the region's beer festival, in language courses… basically anywhere where there are a lot of students.
My recommendation for culture in Erlangen…
…is the poetry festival, either listening to readings in the Schlossgarten or visiting galleries.
Bergkirchweih: yes or no?
Definitely yes. You can't avoid it in Erlangen (unless you go away for a week, but that would be a bad idea, it's well worth going).
Rock im Park or Bardentreffen?
Definitely both!
I always most look forward to…
…Rock im Park. It's a highlight every year. Even if you just go for one day or choose not to camp there, it's worth going to the festival.
Last but not least, my insider tip for Erlangen…
…if you want to get out of town without going far, I would recommend going to see the wild horses in Tennenlohe. It's a beautiful spot for walks in the woods, for a picnic and, if you're lucky, you can see the horses too.
Ani, too, knows a few nice spots around the city
And what's it like to live here as a student? Dani knows all about that
FRISCH! at FAU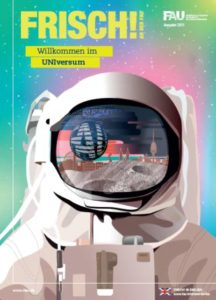 Here you'll find everything you need to know about starting your studies. From service facilities to reports on faculty projects and extracurricular activities at the university to alumni interviews, it's all here.
FAU freshman magazine "frisch" (June 2021) (in German)