On air in 3…2…1…
The campus media of FAU introduce themselves
Have you always wanted to get into media? Do your friends and family keep asking what exactly you're doing? Next time you can reply 'I'm at funklust!'
'Funklust' – that's us, the FAU campus media. We keep you up to date with everything that's going on at the Uni. We also give you handy tips about studying and, of course, play all the latest music. Video, radio or web broadcasts: everything you see and hear at funklust is carefully prepared by students for students. In our production meetings, the whole funklust team meets and lets their creativity flow. We discuss new projects and current topics.
Our production team is made up of students from a wide variety of different backgrounds. Like Sepp, for example. He studies Theater and Media Studies and is the radio editor in chief at funklust. He has been on the team since 2018, and is mainly responsible for audio clips and the radio broadcasts at funklust. 'Everyone is free to explore and express their own creativity,' he says.
He particularly likes the fact that funklust offers students the chance to gain experience in journalism. The non-profit association also offers a lot from a personal point of view. 'I've made some amazing friends here,' he adds.
Richard is another member of the editorial team. He has also been at funklust since 2018 and is in charge of video. Before studying Philosophy, he studied Industrial Engineering and Management. Only students of theatre and media studies get involved with media? Not at all! What Richard most likes about funklust is the opportunity to gather practical experience. 'For me, the special thing about funklust is that it gives students the ideal platform to experiment.' Alongside the video clips, Richard also organizes live streams. Funklust has organized several of them since 2020. The FAU-Sommernacht, or parties at the beginning of the semester – funklust is always there live.
Anna has been involved in several of these projects. She has been at funklust since 2015 and is now in charge of marketing. She is particularly excited by the varied opportunities available at funklust. 'I can be a radio presenter, organize my own video project as part of a team, join in a podcast or carry out interviews either with band members or professors.'
Madelaine explains that you don't need a lot of experience before joining funklust. She joined funklust during the online semester in winter 2020. 'Until now, I have mainly written web articles and produced content for social media. There was always someone on hand to help if I got stuck.' Madelaine knew she could always turn to the editing team if she needed help with a bigger project. 'Everyone's happy to help with brainstorming whenever I have new ideas! There really is something for everyone here, and you're given free rein to pursue your own interests.' Although she's only newly joined the team, she's already started to plan a new concept for TikTok.
Did we spark your interest?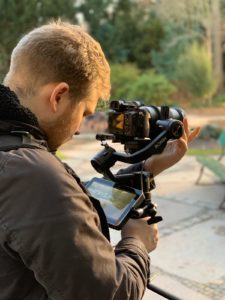 You don't need any experience to join in – just enthusiasm for media and a willingness to try something new. If you would like to get to know funklust better, you can listen to our broadcasts on Mondays and Tuesdays from 6 pm on our webstream www.funklust.de and on radio max neo (UKW 106.5). Our social media channels also have more information about funklust.
If you would like to join our team, you can either write to us via social media or send an e-mail to mail@funklust.de. We're looking forward to welcoming you to our next production meeting!
---
FRISCH! at FAU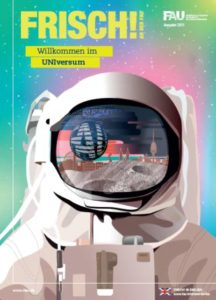 Here you'll find everything you need to know about starting your studies. From service facilities to reports on faculty projects and extracurricular activities at the university to alumni interviews, it's all here.
FAU freshman magazine "frisch" (June 2021)