How is your degree going? – FAU-St in pictures
The results of the student survey over the last few years – Part 3
As part of our series about FAU-St, we are now looking at the experiences of current students at FAU. This covers students who have been studying at FAU since at least the summer semester of 2019 and who have not changed universities during the last year. Unless students changed from a Bachelor's degree programme to a Master's degree last year, the questions in the survey referred to their current degree programme.
The entire report containing the findings of previous FAU-St surveys is available on the OPUS publication and document server.
High ratings for the Erlangen Regional Computing Centre (RRZE)
To find out their opinions about the services provided by FAU, current students were first asked about the study-related institutions at the University. The RRZE has consistently received very positive ratings between 2016 and 2020, of around 85 percent to be precise. The Student Records Service is also well received and even gained 8 percentage points between 2018 and 2020, to obtain 64.4 percent in 2020. The Student Advice and Careers Service (IBZ) also always receives high ratings of over 60 percent (the ratings of other institutions are listed in OPUS).
Academic ways of working/study skills are taught less often, enough space in lectures and seminars
Which positive and negative experiences are common among students at FAU? This is another topic featured in FAU-St. Significant differences between 2020 and the previous years can be seen in particular in terms of teaching academic ways of working/study skills, which only features at 37.9 percent in 2020. This is a drop of 6 percent compared with 2016.
Encouragingly, respondents continue to give positive evaluations for the rooms in which lectures and seminars are held: Around 80 percent of them say that the rooms are of an adequate size. In addition, 86.5 percent (2018) and 88.5 percent (2020) of respondents said that teaching materials are available for lectures.
Positive social interaction between students remains stable
The results of the survey during the last few years suggest that the way students interact with each other has remained positive. One example of this is the question regarding solidarity: Each year, around 70 percent of respondents claim to have experienced a feeling of solidarity among students. In 2016, for example, it was 69.4 percent of respondents and 72.4 percent in 2020. Each year, around 70 percent of respondents state that students at FAU support each other in general.
Opinions about whether teaching staff provide support to students experiencing difficulties fluctuate a little. The rating increased, for example, from 39.7 percent in 2019 to 44.4 percent in 2020, at a level similar to that already measured in 2018.
Whilst only 36.9 percent of respondents in 2016 indicated that teaching staff helped them to take an interest in their subject, this rose to 42.8 percent just two years later. After a further slight rise in 2019, 43.5 percent of respondents still say in 2020 that teaching staff encourage them.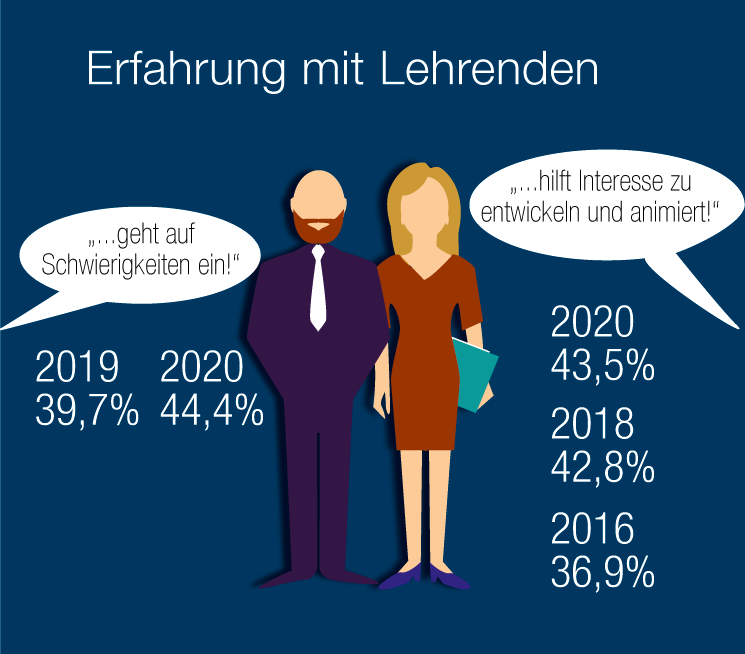 Every year, students at FAU have the opportunity to evaluate their study situation and the services provided by the University during the FAU-St student survey. Due to the coronavirus pandemic, students were also asked to evaluate online teaching during last year's survey. We will now use the data from 2016 to 2020 to prepare graphics of the results during the next few weeks.
The entire report of previous FAU-St surveys is available on the OPUS publication and document server.