Remembering the 90th anniversary of Nazi book burnings in Erlangen
Commemorating the 90th anniversary of Nazi book burnings in Erlangen
On May 12, 1933 as part of the "Action against the Un-German Spirit", the works of authors unpopular with the National Socialist regime were burned at university towns across Germany and also in Erlangen. The remembrance of this barbaric act and the heinous crimes of the Third Reich that it heralded were at the center of a series of events held in Erlangen in May 2023. The flyer with information about the events is available for download here.
The series of events put together by the city of Erlangen and Friedrich-Alexander-Universität Erlangen-Nürnberg is a reminder of this act of politically motivated exclusion and persecution to set an example for tolerance and freedom of expression and to increase vigilance against current threats to the freedom of thought, research and publishing.
A collective volume published by Erlangen City Archive and the University Archive on the occasion of this act of remembrance contains a collection of articles about the current state of research on this topic and provides new insights that much work still needs to be carried out on this topic despite the extent of research that has already been done.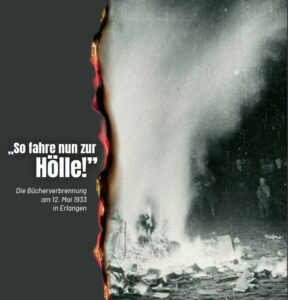 "So fahre nun zur Hölle!" – Die Bücherverbrennung am 12. Mai 1933 in Erlangen (published by the Erlangen City Archive, special series volume 2), published by Andreas Jakob, Christina Link and Clemens Wachter
165 pages, approx. 90 images, paperback, Erlangen, 2023, price: 19.90 euros
ISBN: 978-3-944452-15-9
Articles in the collective volume
Foreword by Dr. Florian Janik, Mayor of the City of Erlangen
Foreword by Prof. Dr. Katharina Herkendell, Officer for the Prevention of Antisemitism at Friedrich-Alexander-Universität Erlangen-Nürnberg
Foreword by Petra Rothe, Chairperson of the German Confederation of Trade Unions (DGB) in Erlangen-Höchstadt
Berndt Hamm: "Feuer des Gerichtes". Universitäre und religiöse Dimensionen der Bücherverbrennung von 1933
Theodor Verweyen: Das Fanal der Bücherverbrennung am 12. Mai 1933
Andreas Jakob: "Im Rahmen der Boykottbewegung in Deutschland." Die Bücherverbrennung in Erlangen am 12. Mai 1933 als Teil einer reichsweiten Aktion
Clemens Wachter / Gisela Glaeser: Neue Erkenntnisse zur Bücherverbrennung in Erlangen
Christina Link: Papierne Zeugen der Erlanger Bücherverbrennung im Stadtarchiv
Georg Simon Gerleigner: "Am Freitag ist das Autodafé …" – Anmerkungen zum Erlanger Archäologieprofessor Georg Lippold in der Zeit des Nationalsozialismus