Controversial remembrance – the problems surrounding names given to streets and academic institutions
FAU lecture series in winter semester 2021/22 in the Auditorium of Erlangen Schloss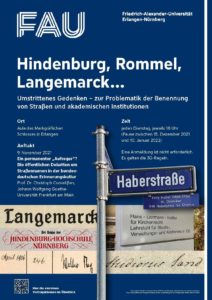 Erwin-Rommel-Strasse, Haberstrasse, Hans-Liermann Institute – there are plenty of examples of names given to streets and buildings that are controversial. With this aspect of the culture of remembrance in mind, the Working Group for Memory Culture at FAU has put together a series of public lectures titled "Umstrittenes Gedenken – Zur Problematik der Benennung von Straßen und akademischen Institutionen" – Controversial remembrance: The difficulties of naming streets and academic institutions.
Naming streets after historical figures can often be a source of controversy. This controversy also affects FAU as some of its institutions have addresses with names that have already been the subject of public debate. Other streets and academic institutions, on the other hand, are named after people that feature in FAU's history that require further investigation. After a short introduction about the situation nationally, FAU researchers presented some examples of names given to streets and locations in Erlangen and Nuremberg in this lecture series. In their lectures, the researchers discussed processes in the culture of remembrance, revealed areas that cause problems and showed examples of how to deal with questionable street names.
Prof. Dr. Christoph Cornelißen from Johann Wolfgang Goethe-Universität Frankfurt am Main started the series with a lecture about the repeated debate about controversial street names in Germany and the link to the culture of remembrance. In further lectures, FAU experts examined locations and their historically important events and name givers such as Walter Flex or the Langemarck myth. How military remembrance is expressed in the public sphere was explained in a lecture about General Erwin Rommel. In addition, a presentation was held about the working group that deals with street names of the Erlangen city archives and its strategies for dealing with controversial street names ("Straßennamen des Stadtarchivs Erlangen und seine Strategie zum Umgang mit umstrittenen Straßennamen").
All lectures are available on the FAU video portal
Overview of the lectures in the series
November 9, 2021: A constant "source of agitation"? The public debates surrounding street names in the commemorative culture of the Federal Republic of Germany. Prof. Dr. Christoph Cornelißen, Johann Wolfgang Goethe-Universität Frankfurt am Main
November 16, 2021: Remembrance in West and East Germany. The East Berlin street signs of Raffael Rheinsberg in the Germanisches Nationalmuseum. Prof. Dr. Daniel Hess, FAUHindenburg Hochschule, Hindenburg Platz, Hindenburg Allee, Hindenburg Strasse Renaming in favor of and against a controversial military man and politician in Erlangen and Nuremberg

Dr. Clemens Wachter, FAU

November 23, 2021: Winning battles and founding empires. Erlangen remembers the Franco-Prussian War and the German Empire. Prof. Dr. Georg Seiderer, FAU
November 30, 2021: The working group for street names of the Erlangen city archives and its strategies using Ludwig-Sand-Strasse and der Haber-/Immerwahrstrasse as examples. Dr. Andreas Jakob, Stadtarchiv Erlangen
December 7, 2021: "We thrust our swords/Deep into Poland". The outbreak of war, Walter Flex Strasse and the first student halls of residence to be built in Erlangen after the war. Prof. Dr. Dirk Niefanger, FAU
December 14, 2021: Hans Liermann: A professor of law in National Socialism. Prof. Dr. Heinrich de Wall, FAU
January 11, 2022: Werner Lorleberg, the "Führerreserve" (Leaders' Reserve) and the end of the war in Erlangen. Prof. Dr. Christoph Safferling, FAU
January 18, 2022: FAU physicians as name givers of streets in Erlangen. Prof. Dr. Karl-Heinz Leven, FAU
January 25, 2022: The "Langemarck myth" Prof. Dr. Charlotte Bühl-Gramer, FAU
February 1, 2022: Simply a general? Erwin Rommel and military remembrance in the public sphere. Prof. Dr. Simone Derix, FAU