Femtec career building program
Femtec – Empower. Connect. Inspire.
Career development for female STEM students during their studies
Are you a female student studying engineering or science? Do you love new technology? Are you looking for an exciting career full of fascinating challenges? If so, then Femtec is just what you're looking for.
Femtec provides active support to female STEM students from the first semester of their Master's degree program onwards. During the Career Building Program, which is held in English, you can receive coaching with other female science and engineering students from Germany and Switzerland to prepare you for your future career and management responsibilities in science and business.
Application period
The application period for the next round of the program is from April 17 to May 7, 2023. More information will be available during the Femtec information event held online on April 26, 2023 at 3 pm.
The international information event run by Femtec and featuring current Femtec scholarship holders will be held on May 2, 5 p.m. (online). The link to the meeting is available on the Femtec website.
Program and contents
How does the Career Building Program work?
The Femtec Career Building Program involves three schools, one each semester. The first school starts at the end of the semester in which you are accepted onto the program.
During the course of three schools you will learn about current trends in project work alongside your studies, together with 50 other female students. You will expand your soft skills such as such as creativity, intrapreneurship, or learn skills vital for successful intercultural and virtual collaboration. During our innovation lab you will work in a team where you will be able to develop pioneering solutions for the challenges of tomorrow together with our partners from industry, research and science.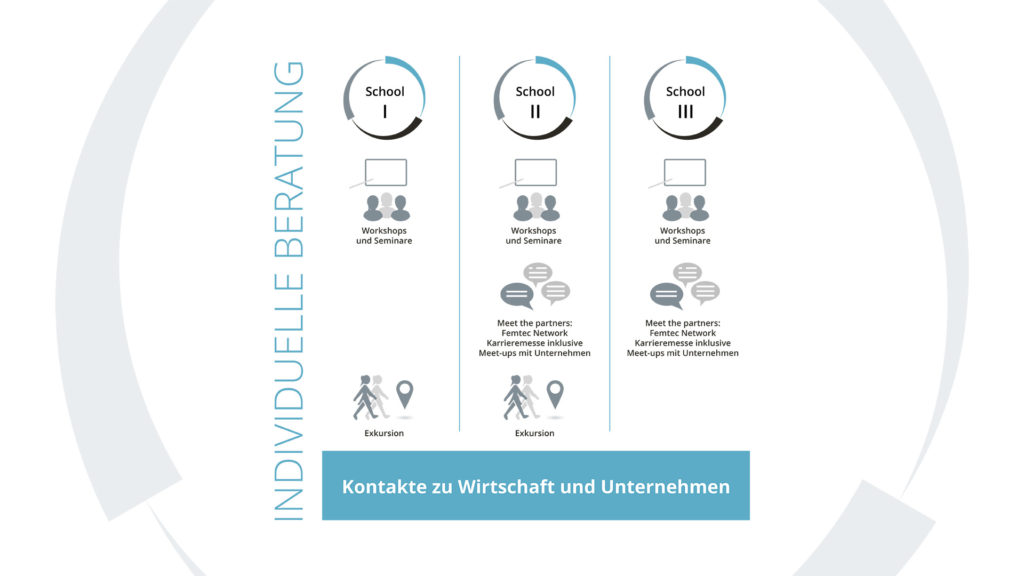 Attractive offers from our partners provide great entry opportunities, such as internships, theses, direct entry or trainee positions. Until then, you will have the opportunity to use individual coaching sessions in the Career-Building Program to define your personal career goals. Further benefits are detailed on this website.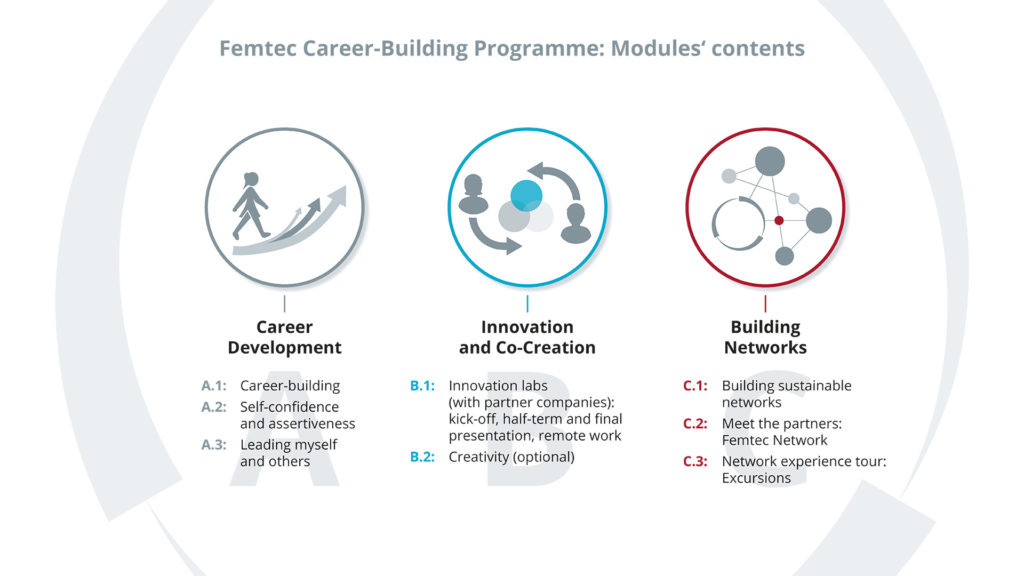 What does the scholarship include?
You can participate in all schools and excursions and benefit from the individual careers advice offered by the program free of charge. The only costs you need to cover yourself are travel and accommodation expenses.
The program does not offer assistance with funding your studies.
Can I interrupt the program?
Participation in the first school is mandatory. Please therefore only apply if you can participate in the first school. If you are unable to participate in one of the other two schools because of other important commitments such as a semester abroad or an internship, you can switch to another program after consulting with Femtec GmbH. However, you should be able to complete the entire program during your studies. An overview about the dates can be found on the Femtec website.
Further information is available on the Femtec website.
Application and selection process
Who can apply?
You can apply if you
are a female student at FAU,
are studying an engineering or science degree,
have started a Master's degree program,
are a dedicated team player who wants to set the course for their career as well as take on responsibility early on in business and research.
Since both the selection process and the program itself take place in English, you should be proficient in English at at least level B2 of the Common European Framework of Reference (CEFR).
The program is held in Berlin. Participants must complete all three schools.
How can I apply?
You can apply online twice a year, usually at the beginning of the semester via the application portal of Femtec GmbH. The portal also contains all the information you need to apply.
You will need all relevant certificates and proof of practical experience as well as a current overview of your grades in electronic form. Please upload all your application documents in one PDF file.
Femtec GmbH application portal
 The next application phase is from April 17 to May 7, 2023. 
Further information about applying will be available in the information event on April 26, 2023.
How does the application process work?
Participants for the Femtec Career Building Program are selected in a two-stage process:
An initial selection is made based on your online application.
During the assessment center, which is held in English, you will complete various exercises. You will be observed and assessed during the course of the day by several members of your university and by representatives of various partner companies of the Femtec Network. They will then decide who has passed the assessment center. You will be informed of the result the next day and can benefit from extensive feedback.
Since only a limited number of places are available on the program each semester, passing the assessment center does not automatically guarantee a place on the program. A final decision about who has been granted a place is made only after all assessment centers have been held in all locations.
Further information as well as the current dates for the program are available on the Femtec website as well as in the info sheet on the website of TU Braunschweig.
Femtec videos
Contact
What is Femtec?
Femtec GmbH was founded in 2001 with the aim of connecting female STEM students in business and science and supporting them in their personal career development. The network provides training to STEM talents even before they are at university and facilitates excellent career prospects for ambitious students with the Career Building scholarship. Diversity program development for organizations and career consulting for professionals are some of the other components offered for strengthening diversity at organizations. Committed women, renowned technology companies and leading scientific institutions and technical universities together form the Femtec network.