How does nature benefit human health and well-being?
And how climate change affects this?
Human health and well-being are highly dependent on the "health" of nature. Studies show that being in direct contact with natural environments has direct positive effects on well-being, health and socio-cognitive abilities. The loss of species and biodiversity under climate change will reduce natural space, decrease biodiversity and in turn, decrease human-well-being and health worldwide.
Biodiversity provides services that are essential for human health and productivity, such as breathable air, drinkable water, productive oceans and fertile soils for growing food and fuels. Natural ecosystems also help store carbon and regulate climate, floods, disease, pollution and water quality.
Nature also provides cultural services such as recreation, spirituality and well-being. Specifically, being in direct contact with natural environments (versus urban environment) has a high positive and causal impact on our mood and happiness, our energy-levels, vitality, heart rate, and health issues like depression as well as our attention spans and memory.
How do extreme weather events influence the risks we face due to climate change?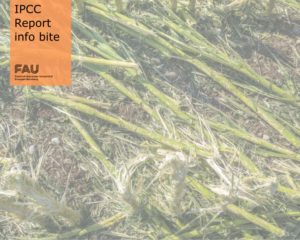 Extreme weather events are one example of the shocks caused by climate change. They include heatwaves, floods, droughts, storms, and storm surges. As climate change progresses, these shocks increase. How hard they hit us, depends on how vulnerable and exposed we are to the respective situation.
About the World Climate Report
The Intergovernmental Panel on Climate Change (IPCC) is the United Nations body for assessing the science related to climate change. In their latest report, published in late February, scientists outline the state of scientific, technical and socio-economic knowledge on climate change, its impacts and future risks, and options for reducing the rate at which climate change is taking place. One of the report's main authors is Prof. Dr. Wolfgang Kiessling, head of the Chair of Palaeontology.