Studying and teaching
Updates, information and questions relating to studying and teaching
The coronavirus has had an impact on studying and teaching at FAU. We have therefore gathered all the information and updates relevant to students and teaching staff on these pages. We will add to it as and when necessary and make sure that it is always up to date.
Please contact the Student Advice and Career Service if you have any questions about studying. If you have any questions about dealing with the coronavirus, you can write to corona-informationen@fau.de.
This page gives information about studying and teaching. Information about examinations is available on the coronavirus information page from the Examination Office (including information about necessary overnight stays for attending examinations).
Study-related questions
Information on contact tracing in the winter semester, on the obligation to wear masks, and social distancing is available on the coronavirus hygiene website
The local health authorities (Gesundheitsamt) are responsible for tracking and tracing contacts. If you have tested positive, you are therefore obliged to contact the local health authorities and notify them of your test result. We would also recommend recording your positive result in the official German Corona-app.
We would ask students who have tested positive for the coronavirus after taking part in an examination or face-to-face class to inform the person in charge of the examination or teaching session. This person will then forward the information to the Examinations Office or Occupational Safety. Alternatively, you can let us know that you have tested positive for Covid-19 by sending an email to: zuv-sgas-covid-nachverfolgung@fau.de.
This means that even if the local health authorities are swamped with enquiries, we at FAU will be able to use the contact details available to us to trace and inform anyone who might have been near you in an enclosed area for any amount of time, and let them know that they may potentially have contracted the virus.
We would ask people in this situation to strictly avoid all contact and isolate as far as possible for the 14 days following the class or event during which the infection first arose, unless instructed otherwise by the local health authorities. If these people develop symptoms corresponding to an infection with SARS-CoV-2 or if their health deteriorates, they must immediately inform the local health authorities by phone.
Information on recording contact details manually and digitally is available on the coronavirus hygiene website.
The following shall apply to teaching in winter semester 2021/22, on the basis of the Fourteenth Bavarian Regulation on Infection Prevention and Control Measures of 1 September 2021 and subject to the still to be published updated hygiene guidance for Bavarian universities:
We are intending to return to face-to-face teaching as far as we possibly can and wherever this style of teaching is most effective. For information on specific classes, please refer to the information in UnivIS. From now on, the planned schedules for all classes must be confirmed and communicated clearly in UnivIS.
It is no longer necessary to maintain the minimum distance of 1.5 metres in face-to-face classes if capacity is planned responsibly. As proof of Covid-19 vaccination, testing or recovery (3G rule) is required for attending classes and face masks must be worn at desks, a maximum number of participants has not been introduced. Information on ventilating rooms correctly will be sent out in due course and published on the FAU coronavirus information website.
Face masks must be worn in all buildings and closed rooms on campus. It is now sufficient to wear a surgical mask, FFP2 masks are no longer required. Surgical masks do not need to be worn if more than one person is in a shared office or during a meeting if the minimum distance of 1.5m is maintained and the room is ventilated correctly. Further information on face masks is available on this web page.
The health authorities continue to require that contact details are recorded. Please use the QR code at your desk or the nearest location to check-in. Use the room QR code to register your contact details if individual spaces are not allocated by QR codes on desks in the room. Further details will be published soon on the FAU coronavirus information website.
Proof of Covid-19 vaccination, testing or recovery (3G rule) is required at FAU. You may only attend classes if you have been tested, vaccinated or recovered and you have voluntarily disclosed this status via darfichrein or by handing in a form. Random checks for compliance with the 3G rule will be carried out at the faculty level, a check list for verifying proof is given on the FAU coronavirus information website. Please be prepared to show photographic ID and sufficient evidence.
Individuals who cannot provide proof of vaccination, testing or recovery will be prevented from taking part in classes or entering buildings by teaching staff or faculty administration staff, who are required to ensure compliance.
Individuals attending examinations or visiting the campus within their professional duties are exempt from the 3G rule.
The RSVP system will continue to be used for reserving study spaces in libraries. The number of spaces offered will be increased gradually. Face masks must be worn, however a surgical mask is sufficient. Library staff will carry out random checks to ensure compliance with the 3G rule.
Service points and secretary's offices will open again. Face masks must be worn, however a surgical mask is sufficient. Staff will check compliance with the 3G rules.
Lecturers are obliged to ensure that students who are unable to attend face-to-face classes as travel restrictions in their home country prevent them from travelling to Germany, or because they are classed as being especially at risk from the virus or are hindered in any other way can continue to study their courses without any disadvantages. There is no obligation to provide teaching online, but these students must be offered an option for acquiring the necessary skills in compulsory teaching units, even if they have to study remotely. All degree programmes will still be able to be studied.
Since the legal amendment to the Bavarian Higher Education Act (BayHSchG) came into effect on 1 August 2020, followed by the amendment on 1 April 2021, the following has applied retrospectively to the standard duration of study and study deadlines:
Summer semester 2020, winter semester 2020/21, summer semester 2021 and winter semester 2021/2022 shall not be considered study semesters (Fachsemester) in the context of the standard dates and deadlines stipulated in the examination regulations for the degree programmes (Section 99 (1) BayHSchG). This means that the semester in question will not be considered when calculating the expiry of standard dates and deadlines and students will automatically be granted an extension. Students enrolled in summer semester 2020 will have their standard duration of studies extended by one semester, provided they have not already had a deadline extended on the basis of this rule (Section 99 (2) of the Bavarian Higher Education Act (BayHSchG)).
This happens automatically and will be indicated accordingly on the certificate of enrolment and transcript of records. All that is included on your final academic record and your degree certificate is the date you sat your final examination (achieved the degree of XYZ on xx.yy.zzzz). It does not state the number of semesters you studied or whether or not you exceeded the standard duration of study.
More details on how this rule works and examples are given on the Examinations Office website.
The following (minimum) requirements must be met in order to ensure the quality of digital education: high-quality online teaching which supports students in their learning and does not simply provide facts. It is important that online teaching includes structural elements which encourage interactive exchange and offer an opportunity to clarify questions. Students should be able to raise questions, either in regular drop-in consultation sessions (online or face-to-face) or in writing. Teaching staff must be available to students. Interactive exchange should be encouraged wherever possible. In a nutshell: teaching must always cater to students' needs.
We have to find an appropriate balance between face-to-face and digital teaching. FAU still is a university which is geared to having students on campus, where digital media and digital teaching would normally be offered as an additional extra to discursive, interactive and co-constructive settings. As it is to be expected that students, in particular new students, will have even more heterogeneous learning needs as a result of the pandemic and the changes they experienced to learning at school and university, we should aim to offer them additional support and assistance in the guise of the digital learning options we have developed to date.
The lecture period in summer semester 2021 begins on 12 April 2021 and ends on 16 July 2021.
Winter semester 2021/22 will begin on 18 October 2021 and end on 11 February 2022.
All information on semester dates is also available on the semester dates website.
Students who are intending to travel to Germany for their first semester or students who returned to their home country in the lecture-free period and are now 'stuck' there due to travel restrictions are facing a particularly difficult situation. We will do our best to help you as much as we possibly can.
If you are anxious about missing part of the semester here, please rest assured that you are of course entitled to use any of our digital teaching resources, provided you have access to the internet where you are.
If you have any individual problems, please either contact your lecturer directly or the Student Advice and Career Service ibz@fau.de. Our colleagues will be happy to help you.
In a change to the rules valid over the summer, since 11 September 2020, international students no longer require proof for the German embassies that it is absolutely necessary for them to enter Germany. All they need is a letter of admission from the university.
Teaching during summer semester 2021 at universities will largely consist of online teaching and individual face-to-face classes.  A letter of admission from a university is accepted by the German embassies as sufficient proof that the student has to attend classes in person, and they will process the visa application. This was confirmed by the German Rectors' Conference (HRK) after consultation with the Federal Foreign Office and the Federal Ministry of the Interior (BMI) in a letter to universities in Germany on 26 April 2021.
For international students from countries who are not allowed to enter or leave the country due to the pandemic, we must take care to ensure that all Master's degree programmes in English can still be studied remotely. We are keen to ensure that international students who are not in Germany or the Nuremberg region can still study at FAU. For international students in other degree programmes, the general regulations for winter semester 2021/22 will apply.
The University Library will re-open on Wednesday, 10 March, provided all currently valid hygiene guidance is complied with. The decision to re-open the library has been taken subject to the relevant provisions in the 12th Bavarian Regulation on Infection Prevention and Control Measures (BayIfSMV). Please note that everyone using the University Library will be required to wear an FFP2 mask in the library itself and in the parking spaces allocated to the library.
The opening hours of the main library, the Science and Technology Branch Library, the Economics and Social Sciences Branch Library, the Branch Library for Law (02JU) and the Educational Science Branch Library are listed on the University Library website.
The reading rooms in the central University Library and the branch library for law are open. Spaces in study areas must be reserved at: https://reservierung.ub.fau.de.
Study areas in branch libraries can be used from 12 April onwards. Please speak to the person in charge, who will show you to a free desk.
The obligation to wear a surgical mask still applies in all University Library buildings and at the study spaces.
The University Library offers an introduction to the library via Zoom for all students who are new to FAU. All important information about using the library is summarised on the welcome page.
The regulations concerning what has become known as the 'coronavirus semesters' (summer semester 2020, winter semester 2020/21 and summer semester 2021), set forth special rules concerning the standard duration of study in Bavaria, which are also of relevance for BAföG. Information is available directly from Student Services.  Information about BAföG is updated regularly and is available online..
If you are pregnant you are allowed to enter FAU premises and use the usual services offered by the University (e.g. consultations, library, student restaurants, copy service etc.), provided you observe the physical distancing and hygiene guidance at all times.
Personal interaction with other people in university buildings (staff, students, others) should be reduced to an absolute minimum.
An FFP2 mask should be worn at all times, but it should be removed if you are in a room by yourself.
At the current time, you are not allowed to attend face-to-face classes if you are pregnant (lectures, seminars, practical classes).
Pregnant students do not usually need to apply for compensation for disadvantages during an examination if they would like to take any examinations. Pregnant students should first contact Julia Åkerlund (Student Advice and Career Service) for notifying the Supervisory Authority for Occupational Safety about the pregnancy. You should then contact the examination officer to request an alternative examination type that can be taken off campus.
Lecturers are required to offer an alternative examination where possible. This option is stipulated in Section 4 (4) of the Coronavirus Regulations, irrespective of the stipulations in individual degree programme and examination regulations.
Students who are pregnant can attend examinations on campus provided the following conditions are met:
First of all, the examination officer should check whether the examination can be taken online. This should be the preferred option, if possible.
If the examination has to be taken on campus, then the student who is pregnant must take the examination in a separate room, away from the others examinees.
This could perhaps be a seminar room or office, which allows sufficient distance to be kept between the pregnant examinee and the examiner. Demonstration booths in lecture halls may also be used.
The examination room should be ventilated well before the examination.
Pregnant students may not enter or leave the building together with other examinees (instead, they should either enter and leave at a different time or use a different entrance).
The examinee should wear an FFP2 mask whilst in university buildings, but should take it off for the examination itself.
If possible, the examinee should be supervised from a neighbouring room or the hallway, with the door to the examination room kept open.
Examiners should wear FFP2 masks throughout the examination.
For reasons of their own health and safety, pregnant students sitting examinations should be advised to refrain from using public transport to travel to the examination and back home, particularly during rush hour.
Students can contact Julia Åkerlund (Student Advice and Career Service) or the FAU Family Service by phone beforehand for advice. Every consultation is treated in the strictest confidence.
Studying online
The coronavirus pandemic has forced us to switch over to entirely online teaching for the first time ever in the long history of FAU. Please refer to fau.de/semesterstart for a lot of useful information and tips.
Students can find tips for learning online and share their experiences with others on the StudOn platform online learning
---
Teaching-related questions
Hybrid teaching at FAU
The Innovation in Learning Institute at FAU has created a website with information, concepts and recommendations for hybrid teaching.
The same regulations apply for attendance of online teaching as for attendance of regular face-to-face classes. Attendance cannot be made compulsory if the face-to-face class did not meet the legal requirements for this either.
In addition, we would explicitly ask you to pay special consideration to students who are classed as being at-risk or who are in a special position due to caring for children or helping out in hospitals.
Subject to approval by the Bavarian State Ministry of Science and the Arts, the additional effort required for preparing and holding a class online is estimated on the basis of the three-tier model and procedure described in the Executive Board resolution of 21 October 2020. This only applies subject to the proviso that the faculties provide all necessary teaching options.
With DFNconf, a Jitsi-server operated locally at the Erlangen Regional Computing Centre (RRZE), MS Teams and Zoom, FAU has various web conference platforms at its disposal.
An overview is available on the RRZE website.
Important help and information about Zoom is available on the StudOn page FAU online teaching.
The ILI team can offer you a Zoom coaching session to help you switch over to online teaching as quickly as possible. Experienced colleagues at FAU are available to walk you through the basic functions of the software live in a Zoom meeting. You can cover any questions you have during the 30 minute video conference, and then you should be able to start straightaway with your first session. You can book an appointment online.
If you are planning a class for up to 300 students, you should use the 'meeting' function in Zoom, which is available to all members of staff at FAU. 'Meetings' are designed to be a collaborative event in which all participants are able to share their screens, switch on their audio and video and see and hear other participants, provided they have also switched on their audio and video.
If you are planning a class for more than 300 students or if you have special requirements for your classes, you will need to request the 'webinar' option. Please contact schnell-digital@ili.fau.de, writing 'Zoom webinar' in the subject line.
---
Where to go for more advice and support
The social work, psychological and legal counselling services run by Student Services can be reached by telephone or e-mail. The psychological counselling service also offers appointments for a video chat.
Social work unit
sozialberatung@werkswelt.de
Phone: +49 9131 8002-75
Psychological advice
Phone: + 49 9131 8002-750 Mon-Fri 8.30am -12.00pm to arrange an appointment
Appointments are currently only available by telephone or video chat.
The drop-in consultation service is offered via this phone number on Tuesdays from 1.30pm to 4.30pm for the duration of the coronavirus pandemic.
Legal advice
---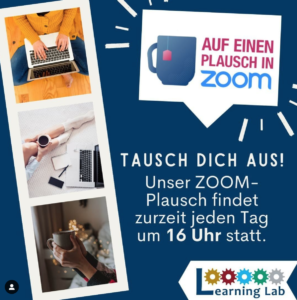 Meeting for a chat via Zoom
The Innovation in Learning Institute at FAU offers a Zoom room where students can go to meet other students for an informal chat. Events are published on the FAU online learning website.
---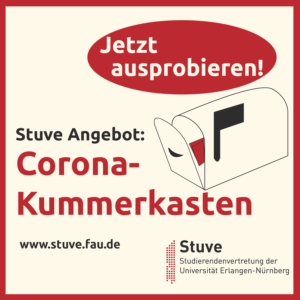 Students' Representatives feedback form
The Students' Representatives have set up a feedback form where you can post any problems and questions you may have with respect to the coronavirus pandemic. The representatives will try to answer your questions directly. They also hope to be able to identify any areas which are causing problems and forward these to the people responsible for them at FAU.
Everyone is, of course, also welcome to contact FAU directly:
---
Please take care of yourselves in these turbulent times, and rest assured that we take your concerns into consideration in all the decisions we make.
We would appreciate it if you could send us any topics which you feel have not been covered sufficiently to the e-mail address corona-informationen@fau.de. We will then include them in our FAQs.