Studying and teaching
Updates, information and questions relating to studying and teaching
The coronavirus has had an impact on studying and teaching at FAU: face-to-face classes have been cancelled, seminars and lectures are now being held online and examinations requiring attendance in person can only be held if strict precautions are observed. We have therefore gathered all the information and updates relevant to students and teaching staff on these pages. We will add to it as and when necessary and make sure that it is always up to date.
Please contact the Student Advice and Career Service if you have any questions about studying. If you have any questions about dealing with the coronavirus, you can write to corona-informationen@fau.de.
On this page you will find answers to study-related questions and teaching-related questions. The latest information concerning examinations is available from the Examinations Office's information page (including information about overnight stays required for examinations).
Study-related questions
Information on contact tracing in the winter semester, on the obligation to wear masks, and social distancing is available on the coronavirus hygiene website
Students can find tips for learning online and share their experiences with others on the StudOn platform online learning
The local health authorities (Gesundheitsamt) are responsible for tracking and tracing contacts. If you have tested positive, you are therefore obliged to contact the local health authorities and notify them of your test result. We would also recommend recording your positive result in the official German Corona-app.
We would ask students who have tested positive for the coronavirus after taking part in an examination or face-to-face class to inform the person in charge of the examination or teaching session. This person will then forward the information to the Examinations Office or Occupational Safety. Alternatively, you can let us know that you have tested positive for Covid-19 by sending an email to: zuv-sgas-covid-nachverfolgung@fau.de.
This means that even if the local health authorities are swamped with enquiries, we at FAU will be able to use the contact details available to us to trace and inform anyone who might have been near you in an enclosed area for any amount of time, and let them know that they may potentially have contracted the virus.
We would ask people in this situation to strictly avoid all contact and isolate as far as possible for the 14 days following the class or event during which the infection first arose, unless instructed otherwise by the local health authorities. If these people develop symptoms corresponding to an infection with SARS-CoV-2 or if their health deteriorates, they must immediately inform the local health authorities by phone.
Information on analog and digital contact tracking can be found on the Corona hygiene pages.
The relevant authorities have not yet decided whether winter semester 2020/2021 will also be classed as a 'coronavirus semester' in Bavaria. Student Services therefore advises students whose BAföG funding is coming to an end to definitely apply for further funding for summer semester 2021. As soon as a decision has been made to extend the standard duration of study and Student Services has received the relevant instructions from the Bavarian State Ministry of Science and the Arts, this will be taken into consideration during application processing. Information about BAföG is updated regularly and is available online.
Teaching in Master's degree programmes taught in English will be available online, in order to ensure that international students who are not actually in Germany or at the University will still be able to study at FAU. For international students in other degree programmes, the general regulations for winter semester 20/21 will apply.
According to the communication from the Bavarian State Ministry for  Family, Labour and Social Affairs (STMAS), the measures for high local rates of infection now apply. This means that pregnant students at FAU are now classed as being at a greater risk. In consultation with the pertinent Supervisory Authority for Occupational Safety, pregnant students are now prohibited from accessing FAU until further notice.
Pregnant students are not permitted to attend face-to-face sessions.
This also applies to taking part in examinations on campus.
Pregnant students do not usually need to apply for compensation for disadvantages during an examination if they would like to take any examinations. Pregnant students should first contact Julia Åkerlund (Student Advice and Career Service) for notifying the Supervisory Authority for Occupational Safety about the pregnancy. The student should then contact the examination officer to request an alternative examination type that can be taken off campus.
Lecturers are required to offer an alternative examination where possible. This option is stipulated in Section 4 (4) of the Coronavirus Regulations, irrespective of the stipulations in individual degree programme and examination regulations.
Students can contact Julia Åkerlund (Student Advice and Career Service) or the FAU Family Service by phone beforehand for advice. Every consultation is treated in the strictest confidence.
The FAU Family Service offers comprehensive advice on all issues concerning pregnancy and maternity protection. The Family Service can give you advice on both statutory and university-specific maternity-protection rules.
Detailed information is available on the Family Service website at: www.familienservice.fau.de/angebote/beratung
The following shall apply retrospectively from 20 April 2020 once the legal amendment to the Bavarian Higher Education Act (BayHSchG) comes into effect on 1 August 2020:
Summer semester 2020 shall not be considered a study semester (Fachsemester) in the context of the standard dates and deadlines stipulated in the examination regulations for the degree programmes (new Section 99 (1) BayHSchG). This means that summer semester 2020 will not be considered when calculating the expiry of standard dates and deadlines and students will automatically be granted an extension. Students enrolled in summer semester 2020 will have their standard duration of studies extended by one semester, provided you have not already had a deadline extended on the basis of this rule (new Section 99 (2) of the Bavarian Higher Education Act (BayHSchG)).
This happens automatically and will be indicated accordingly on the certificate of enrolment and transcript of records. All that is included on your final academic record and your degree certificate is the date you sat your final examination (achieved the degree of XYZ on xx.yy.zzzz). It does that state the number of semesters you studied or whether or not you exceeded the standard duration of study.
More details on how this rule works and examples are given on the Examinations Office website website.
All degree programmes at FAU will start regular teaching in the winter semester 2020/2021 on 2 November 2020. This is with the exception of degree programmes in medicine/dentistry for students in their 2nd semester and above, which will start again on 12 October 2020. First year students in these degree programmes will start like everyone else on 2 November 2020. Due to the close connections with State Examination degree programmes offered by the Faculty of Medicine, the lecture period for the Bachelor's and Master's degree programmes in Molecular Medicine will also start on 12 October 2020 for students in the 3rd semester and above. This applies in particular to classes for the 3rd and 5th semester for the Bachelor's degree programme and classes for the 3rd semester in the Master's degree programme.
Lecture period in summer semester 2021: 12 April 2021 to 16 July 2021.
All information on semester dates is also available on the semester dates website.
The University Library will re-open on Wednesday, 10 March, provided all currently valid hygiene guidance is complied with. The decision to re-open the library has been taken subject to the relevant provisions in the 12th Bavarian Regulation on Infection Prevention and Control Measures (BayIfSMV). Please note that everyone using the University Library will be required to wear an FFP2 mask in the library itself and in the parking spaces allocated to the library.
The opening hours of the main library, the Science and Technology Branch Library, the Economics and Social Sciences Branch Library and the Educational Science Branch Library are listed on the University Library website.
In the central libraries and the branch library for law (02JU), you must reserve study places in advance. You will be able to reserve a space online from Monday 8 March. You will also be able to use the photocopiers, scanners and internet work places again.
The University Library offers an introduction to the library via Zoom for all students who are new to FAU. All important information about using the library is summarised on the welcome page.
Students who are intending to travel to Germany for their first semester or students who returned to their home country in the lecture-free period and are now 'stuck' there due to travel restrictions are facing a particularly difficult situation. We will do our best to help you as much as we possibly can.
If you are anxious about missing part of the semester here, please rest assured that you are of course entitled to use any of our digital teaching resources, provided you have access to the internet where you are.
If you have any individual problems, please either contact your lecturer directly or the Student Advice and Career Service ibz@fau.de. Our colleagues will be happy to help you.
In a change to the rules valid over the summer, since 11 September 2020, international students no longer require proof for the German embassies that it is absolutely necessary for them to enter Germany. All they need is a letter of admission from the university. As it is clear that German universities intend to offer a mixture of online and face-to-face teaching in summer semester 2021, a letter of admission from a university is accepted by the German embassies as sufficient proof that the student has to attend classes in person, and they will process the visa application.
You need the right equipment to be able to study online. Students who do not have their own laptop or one that is equipped for online learning can contact fau4fau-laptops@fau.de and apply to borrow one. An appeal for donations has been launched.
Starting at FAU this winter semester
When the winter semester 2020/21 begins, it will not be the same as in previous years. The coronavirus pandemic and its consequences mean that starting university will be a rather different experience for you, our new first year students. One thing we can promise you, however, is that together we will make it possible for you to get off to the perfect start at university. FAU, its institutions, faculties and partners will still offer a wide range of services and introductory events to help you find your feet as you start out at university.
---
Teaching-related questions
Teaching at FAU in winter semester 2020/21 will largely consist of online teaching combined with individual face-to-face classes ('hybrid semester').
This means that face-to-face classes will be able to be offered in addition to online teaching if necessary, provided we are able to do so in accordance with legal provisions and regulations aimed at preventing infection and provided we are able to organise it (for example if sufficient rooms are available and students are able to attend).
Teaching staff can find information and support for offering classes online on the FAU online teaching website.
With DFNconf, a Jitsi-server operated locally at the Erlangen Regional Computing Centre (RRZE), MS Teams and Zoom, FAU has various web conference platforms at its disposal.
An overview is available on the RRZE website.
Important help and information about Zoom is available on the FAU online teaching website.
The ILI team can offer you a Zoom coaching session to help you switch over to online teaching as quickly as possible. Experienced colleagues at FAU are available to walk you through the basic functions of the software live in a Zoom meeting. You can cover any questions you have during the 30 minute video conference, and then you should be able to start straightaway with your first session. You can book an appointment online.
If you are planning a class for up to 300 students, you should use the 'meeting' function in Zoom, which is available to all members of staff at FAU. 'Meetings' are designed to be a collaborative event in which all participants are able to share their screens, switch on their audio and video and see and hear other participants, provided they have also switched on their audio and video.
If you are planning a class for more than 300 students or if you have special requirements for your classes, you will need to request the 'webinar' option. Please contact schnell-digital@ili.fau.de, writing 'Zoom webinar' in the subject line.
The same regulations apply for attendance of online teaching as for attendance of regular face-to-face classes. Attendance cannot be made compulsory if the face-to-face class did not meet the legal requirements for this either.
In addition, we would explicitly ask you to pay special consideration to students who are classed as being at-risk or who are in a special position due to caring for children or helping out in hospitals.
That is not a decision that FAU can take. It is up to the institution in question to decide whether or not the placement can go ahead.
---
Further information on support services and consultations
The social work, psychological and legal counselling services run by Student Services can be reached by telephone or e-mail. The psychological counselling service also offers appointments for a video chat.
Social work unit
Phone: + 49 9131 800275
Psychological advice
Phone: + 49 9131 8002-750 Mon-Fri 8.30am -12.00pm to arrange an appointment
Appointments are currently only available by telephone or video chat.
The drop-in consultation service is offered via this phone number on Tuesdays from 1.30pm to 4.30pm for the duration of the coronavirus pandemic.
Legal advice
---
Meeting for a chat via Zoom
The Innovation in Learning Institute at FAU offers a Zoom room where students can go to meet other students for an informal chat. Events are published on the FAU online learning website. 
---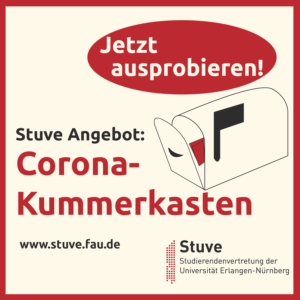 Students' Representatives feedback form
The Students' Representatives have set up a feedback form where you can post any problems and questions you may have with respect to the coronavirus pandemic. The representatives will try to answer your questions directly. They also hope to be able to identify any areas which are causing problems and forward these to the people responsible for them at FAU.
Everyone is, of course, also welcome to contact FAU directly:
---
Please take care of yourselves in these turbulent times, and rest assured that we take your concerns into consideration in all the decisions we make.
We would appreciate it if you could send us any topics which you feel have not been covered sufficiently to the e-mail address corona-informationen@fau.de. We will then include them in our FAQs.