Studying and teaching
Updates, information and questions relating to studying and teaching
The coronavirus continues to affect studying and teaching at FAU. We have therefore gathered all the information and updates relevant to students and teaching staff on these pages. We will add to it as and when necessary and make sure that it is always up to date.
2G rule for teaching as of 15 November 2021
Face-to-face teaching will be subject to the 2G rule irrespective of the 7 day rate of infection with effect from 15 November 2021, with a transition period until 22 November 2021. This means: Students and teaching staff who do not have 2G status cannot attend classes or teach in person. However, students can keep up with course content online, either by following a live stream or by watching recorded lectures/seminars.
General information about studying and teaching
This coronavirus FAQ page provides information about studying and teaching.
Study-related questions
General Information on contact tracing in the winter semester, on the obligation to wear FFP2 masks, and social distancing is available on the coronavirus hygiene website
Positive test result
We would ask students who have tested positive for the coronavirus after taking part in an examination or face-to-face class to inform the person in charge of the examination or teaching session. This person will then forward the information to the Examinations Office or Occupational Safety. Alternatively, you can let us know that you have tested positive for Covid-19 by sending an email to: zuv-sgas-covid-nachverfolgung@fau.de.
After receiving notification via the e-mail address above, Occupational Safety will get in touch to request all the necessary information. The session coordinator will then distribute a letter provided by Occupational Safety to all participants of the course.
Information on recording contact details manually and digitally is available on the coronavirus hygiene website.
Contact with a person who has tested positive
You can find information about whether you are categorised as a contact person after being in contact with an infected person on the RKI website:
This diagram from the RKI also provides a good overview (in German).
The Bavarian Ministry of Health website contains information about the current rules for persons who have tested positive, close contacts, and for suspected cases as well as information about isolating and quarantine under the heading 'Fragen zu Quarantäne und Isolation' (in German).
This page also contains information about testing and information about who is liable for the costs of mandatory tests.
Please note that there are different rules for vaccinated and recovered contact persons. For information about these rules, please refer to the RKI website, under the heading '3.2.2. Hinweise zur Anordnung der Quarantäne / Umgang mit geimpften oder genesenen Kontaktpersonen' (in German).
The following shall apply to teaching in winter semester 2021/22, on the basis of the Fifteenth Bavarian Regulation on Infection Prevention and Control Measures of 1 September 2021 and subject to the hygiene guidance for Bavarian universities of 15 November 2021:
On 22 November 2021, FAU introduced the 2G rule for face-to-face teaching at the University. On 23 November 2021, the Council of Ministers decided to introduce the 2G rule for all universities across Bavaria, extending and making the rules stricter at the same time. The legal basis is stipulated in the 15th Bavarian Regulation on Infection Prevention and Control Measures. This was updated on 15 December 2021. General information on the 2G rules at FAU is available below.
The following applies to teaching:
Classes in which all students can prove that they have been vaccinated or have recovered can and should take place face to face.
It is no longer necessary to maintain the minimum distance of 1.5 metres in face-to-face classes if capacity is planned responsibly. As proof of Covid-19 vaccination or recovery (2G rule) is required for attending classes and face masks must be worn at desks, a maximum number of participants has not been introduced. Information on ventilating rooms correctly will be sent out in due course and published on the FAU coronavirus information website.
FFP2 masks must be worn in all buildings and closed rooms on campus. Further information on face masks is available on our coronavirus website.
The health authorities continue to require that contact details are recorded. Please use the QR code at your desk or the nearest location to check-in. Use the room QR code to register your contact details if individual spaces are not allocated by QR codes on desks in the room. Further details will be published soon on the FAU coronavirus information website.
The 3G plus rule applies to examinations. However, FAU currently believes that the limited capacities for PCR tests and the resulting longer waiting times for results mean that students will not be able to obtain a valid PCR test result before sitting their examinations. Until further notice, we are therefore also willing to accept a valid, negative PoC antigen test as proof for the purpose of sitting the examination from those students who are neither vaccinated nor recovered. Further details are available on the Examination Office's website.
The RSVP system will continue to be used for reserving study spaces in libraries. The number of spaces offered will be increased gradually. FFP2 masks must be worn at all times. Library staff will carry out random checks to ensure compliance with the 2G rule.
Service desks and secretary's offices will remain open. FFP2 masks must be worn at all times. Staff will check compliance with the 2G rules.
Lecturers are obliged to ensure that students who are unable to attend face-to-face classes as travel restrictions in their home country prevent them from travelling to Germany, or because they are classed as being especially at risk from the virus or are hindered in any other way can continue to study their courses without any disadvantages. There is no obligation to provide teaching online, but these students must be offered an option for acquiring the necessary skills in compulsory teaching units, even if they have to study remotely. All degree programmes will still be able to be studied.
No exceptions are made to the obligation of regular attendance in teaching units for which attendance is compulsory in the event that a student has been ordered by the local health authorities to remain in quarantine (contact person) or isolation (infection).
It is irrelevant whether the student is to blame for the absence or not, and there are no exceptions for absences caused directly or indirectly by Covid. Whether or not the student is to blame for the absence, the fact remains that the learning outcome of the specific course for which attendance in person is necessary cannot be met without actually attending the classes. Accordingly, absences are only permitted to the extent stipulated in the relevant examination regulations (no matter the reason for them). If a student has too many absences, the lecturer may be able to offer substitute achievements up to a certain extent. If this is not possible, the student must repeat the teaching unit. There are no differences to the rules that applied to studying before the coronavirus pandemic in this respect.
The following (minimum) requirements must be met in order to ensure the quality of digital education: high-quality online teaching which supports students in their learning and does not simply provide facts. It is important that online teaching includes structural elements which encourage interactive exchange and offer an opportunity to clarify questions. Students should be able to raise questions, either in regular drop-in consultation sessions (online or face-to-face) or in writing. Teaching staff must be available to students. Interactive exchange should be encouraged wherever possible. In a nutshell: teaching must always cater to students' needs.
The general rule is that we have to find an appropriate balance between face-to-face and digital teaching. FAU still is a university which is geared to having students on campus, where digital media and digital teaching would normally be offered as an additional extra to discursive, interactive and co-constructive settings. As it is to be expected that students, in particular new students, will have even more heterogeneous learning needs as a result of the pandemic and the changes they experienced to learning at school and university, we should aim to offer them additional support and assistance in the guise of the digital learning options we have developed to date.
Since the legal amendment to the Bavarian Higher Education Act (BayHSchG) came into effect on 1 August 2020, followed by the amendment on 23 December 2021, the following has applied retrospectively to the standard duration of study and study deadlines, with effect from 20 April 2020:
Summer semester 2020, winter semester 2020/21, summer semester 2021 and winter semester 2021/22 shall not be considered study semesters (Fachsemester) in the context of the standard dates and deadlines stipulated in the examination regulations for the degree programmes (Section 99 (1) BayHSchG). This means that the semester in question will not be considered when calculating the expiry of standard dates and deadlines and students will automatically be granted an extension. Students enrolled in summer semester 2020, winter semester 2020/2021, summer semester 2021, or winter semester 2021/2022 will have their standard duration of studies extended by one semester, provided they have
not
already had a deadline extended on the basis of this
rule
(Section 99 (2) of the Bavarian Higher Education Act (BayHSchG)).
This happens automatically and will be indicated accordingly on the certificate of enrolment and transcript of records. All that is included on your final academic record and your degree certificate is the date you sat your final examination (achieved the degree of XYZ on xx.yy.zzzz). It does not state the number of semesters you studied or whether or not you exceeded the standard duration of study.
More details on how this rule works and examples are given on the Examinations Office website.
Students who are intending to travel to Germany for their first semester or students who returned to their home country in the lecture-free period and are now 'stuck' there due to travel restrictions are facing a particularly difficult situation. We will do our best to help you as much as we possibly can.
For international students from countries who are not allowed to enter or leave the country due to the pandemic, we must take care to ensure that all Master's degree programmes in English can still be studied remotely. We are keen to ensure that international students who are not in Germany or the Nuremberg region can still study at FAU. For international students in other degree programmes, the general regulations for winter semester 2021/22 will apply.
If you have any individual problems, please either contact your lecturer directly or the Student Advice and Career Service ibz@fau.de. Our colleagues will be happy to help you.
The coronavirus pandemic makes it hard to say in advance exactly what the entry regulations will be. We at FAU do not actively collect the latest information in this respect ourselves, we rely on the daily updates from the Federal government. Rules can always change at short notice, affecting individual countries or regions. We would recommend checking the German government's websites listed below regularly to keep up to date with reliable information on which entry requirements currently apply.
Federal Foreign Office: https://www.auswaertiges-amt.de/en/coronavirus/2317268
Ministry of Health (also on topics such as coronavirus tests before entry etc.): https://www.bundesgesundheitsministerium.de/en/coronavirus/current-information-for-travellers.html
Federal Ministry of the Interior: https://www.bmi.bund.de/SharedDocs/faqs/EN/topics/civil-protection/coronavirus/travel-restrictions-border-control/travel-restriction-border-control-list.html
Munich airport's website offers a handy and up to date summary of everything to do with the rules and regulations for entering Bavaria: https://www.munich-airport.com/travelling-in-times-of-the-coronavirus-pandemic-8395611
Visa applications: In a change to the rules valid over summer 2020, since 11 September 2020, international students no longer require proof for the German embassies that it is absolutely necessary for them to enter Germany. All they need is a letter of admission from the university. A letter of admission from a university is accepted by the German embassies as sufficient proof that the student has to attend classes in person, and they will process the visa application. This was confirmed by the German Rectors' Conference (HRK) after consultation with the Federal Foreign Office and the Federal Ministry of the Interior (BMI) in a letter to universities in Germany on 26 April 2021.
Due to the fact that there have been problems at certain embassies despite this official information, all students admitted to FAU can download a confirmation of obligation to attend the University in person in winter semester 2021/22 using their letter of admission and enrolled students can do so using their certificate of enrolment.
On 5 November 2021, the government of Middle Franconia (supervisory authority for occupational safety) announced a temporary ban on pregnant students working at or attending face-to-face classes or events at university on the grounds of the Maternity Protection Act.
Anonymous advice via telephone is available from Stefanie Rösch (Student Advice and Career Service) or the Family Service, and we would strongly urgent pregnant students to make use of this service. Every consultation is treated in the strictest confidence. Stefanie Rösch (Student Advice and Career Service) is responsible for reporting the pregnancy to the supervisory authority for occupational safety.
Pregnant students are requested to contact their lecturers. Teaching staff are required to offer these students alternative solutions that allow them to continue studying their degree programmes.
Individual solutions must be found to enable them to take part in examinations. Participation in on-campus examinations with a number of other candidates is not allowed. However, additional individual protective measures ought to be introduced to allow them to take examinations wherever possible. In all other instances, Section 4(4) Coronavirus Regulations shall apply, according to which the examiner can set an alternative examination date or arrange a change of examination format if so requested by the affected student and in consultation with the relevant Examinations Committee and the Dean of Studies.
---
Teaching-related questions
FAU is providing support to its teaching staff with a variety of measures:
Assistance with organisational matters and teaching: On the one hand, teaching staff can apply for funds from the 'restart – willkommen zurück' initiative to pay for assistants who provide support for the return to face-to-face teaching by functioning as moderators for teaching staff during hybrid classes. On the other hand, they can work as 'coronavirus scouts' and provide support to students who cannot return to face-to-face teaching (international students, at-risk students, etc.). Coronavirus scouts help students who cannot return to campus by providing information, socialising online, serving as a point of contact for questions and problems, and sending lecture notes and teaching materials if necessary. They can be based at teaching unit level or faculty level.
Technical support: Many seminar rooms and lecture halls have been fitted with technical equipment for a hybrid teaching scenario to ensure that participants who are physically present can interact seamlessly with online participants.In addition, mobile units for hybrid teaching which can be loaned from the faculties have also been purchased.
More information is available from your Dean of Studies.
The same regulations apply for attendance of online teaching as for attendance of regular face-to-face classes. Attendance cannot be made compulsory if the face-to-face class did not meet the legal requirements for this either.
Subject to approval by the Bavarian State Ministry of Science and the Arts, the additional effort required for preparing and holding a class online is estimated on the basis of the three-tier model and procedure described in the Executive Board resolution of 21 October 2020. This only applies subject to the proviso that the faculties provide all necessary teaching options.
---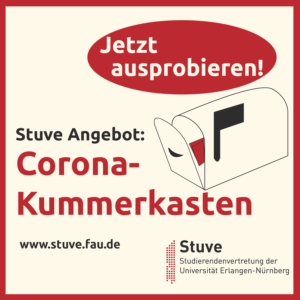 Students' Representatives feedback form
The Students' Representatives have set up a feedback form where you can post any problems and questions you may have with respect to the coronavirus pandemic. The representatives will try to answer your questions directly. They also hope to be able to identify any areas which are causing problems and forward these to the people responsible for them at FAU.
Everyone is, of course, also welcome to contact FAU directly:
---
Please take care of yourselves in these turbulent times, and rest assured that we take your concerns into consideration in all the decisions we make.
We would appreciate it if you could send us any topics which you feel have not been covered sufficiently to the e-mail address corona-informationen@fau.de. We will then include them in our FAQs.