Degree programmes taught exclusively in English
Degree programmes taught exclusively in English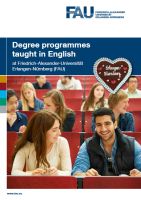 The teaching language of these degree programmes is English.
For our International Degree Programmes, which are exclusively taught in English, proof of knowledge of the German language is not required at the time of your application and enrolment and will not affect your application in a negative way. However, a basic knowledge of the German language is of paramount importance for living and seeking a job in Germany. FAU offers a wide range of opportunities to learn German in a fast and effective way and will support you in such endeavours.
All students with a native language other than German need to prove a German language proficiency level of A1 (or equivalent) at the end of their first academic year at FAU. For more information please contact your degree programme coordinator.
---
NC:

Qualification assessment

NC:

Qualification assessment

NC:

Qualification assessment

Start:

Summer semester, Winter semester

NC:

Qualification assessment

Type:

Bachelor of Science (B.Sc.)

NC:

Qualification assessment process (no NC)

Start:

Summer semester, Winter semester

NC:

Qualification assessment

Start:

Summer semester, Winter semester

NC:

Qualification assessment

Type:

Bachelor of Science (B.Sc.)

NC:

Qualification assessment process (no NC)

Start:

Summer semester, Winter semester

NC:

Qualification assessment

NC:

Qualification assessment

Start:

Summer semester, Winter semester

NC:

Qualification assessment

NC:

Qualification assessment

Start:

Summer semester, Winter semester

NC:

Qualification assessment

Type:

Master of Arts (M.A.)

NC:

Qualification assessment

NC:

Qualification assessment

Type:

Master of Arts (M.A.)

NC:

Qualification assessment

Type:

Master of Arts (M.A.)

NC:

Qualification assessment

Start:

Summer semester, Winter semester

NC:

Qualification assessment

NC:

Qualification assessment

Start:

Summer semester, Winter semester

NC:

Qualification assessment

Type:

Bachelor of Science (B.Sc.)

NC:

Qualification assessment

Type:

Bachelor of Science (B.Sc.)

NC:

Qualification assessment

NC:

Qualification assessment

Start:

Summer semester, Winter semester

NC:

Qualification assessment

Medical Engineering (M.Sc.)

"Medical Image and Data Processing", "Health & Medical Data Analytics and Entrepreneurship" or "Medical Robotics"

Start:

Summer semester, Winter semester

NC:

Qualification assessment

NC:

Qualification assessment

Start:

Summer semester, Winter semester

NC:

Qualification assessment

Start:

Summer semester, Winter semester

NC:

Qualification assessment

Type:

Master of Arts (M.A.)

NC:

Qualification assessment

Type:

Master of Arts (M.A.)

NC:

Qualification assessment

Start:

Summer semester, Winter semester

NC:

Qualification assessment

Start:

Summer semester, Winter semester

NC:

Qualification assessment

Type:

Master of Arts (M.A.)

NC:

Qualification assessment

Type:

Master of Business Administration

NC:

Individual Qualification assessment