Bachelor's degree programmes
Bachelor's degree programmes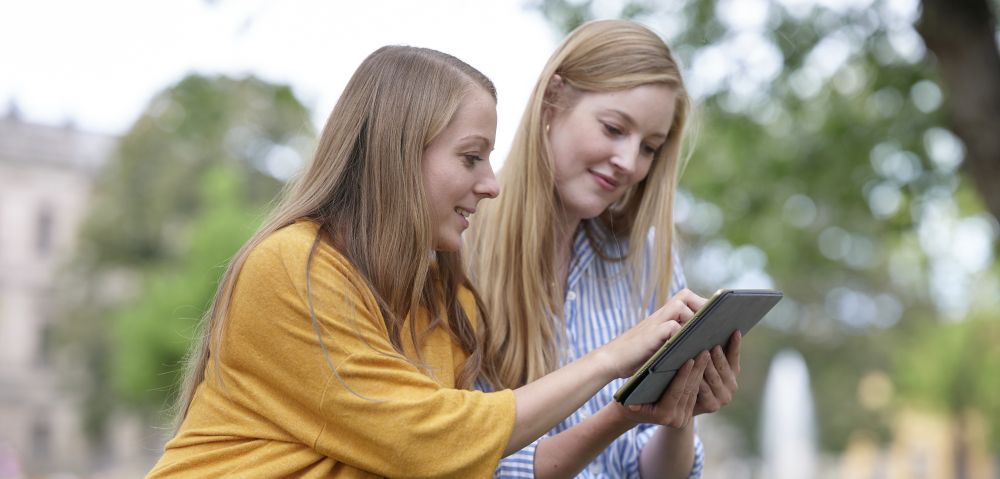 A list of our Bachelor's degree programmes is available on the all degree programmes page. This page gives detailed information on every degree programme and contacts for advice. German is the teaching language at FAU. Therefore, a good knowledge of German is an essential prerequisite to successfully completing a degree programme at our University. Detailed information for all degree programmes is only available in German.
Do you have any questions on studying at FAU? We are happy to help wherever we can.
We provide information on the subjects offered at FAU and FAQs on choosing what to study.
Type:

Bachelor of Arts (B.A.)

NC:

No Admissions Restrictions

Type:

Bachelor of Arts (B.A.)

NC:

No Admissions Restrictions

Type:

Bachelor of Science (B.Sc.)

NC:

Qualification assessment process (no NC)

Berufspädagogik Technik (B.Sc.)

Fields of study electrical engineering and information technology or metal technology

Type:

Bachelor of Science (B.Sc.)

Location:

Erlangen, Nuremberg

NC:

No Admissions Restrictions

Type:

Bachelor of Science (B.Sc.)

NC:

No Admissions Restrictions - Registration

Type:

Bachelor of Arts (B.A.)

NC:

No Admissions Restrictions

Type:

Bachelor of Arts (B.A.)

NC:

No Admissions Restrictions

Type:

Bachelor of Arts (B.A.)

NC:

No Admissions Restrictions

Type:

Bachelor of Science (B.Sc.)

NC:

No Admissions Restrictions

Type:

Bachelor of Science (B.Sc.)

NC:

No Admissions Restrictions

Type:

Bachelor of Science (B.Sc.)

NC:

No Admissions Restrictions

Type:

Bachelor of Arts (B.A.)

NC:

No Admissions Restrictions

Type:

Bachelor of Science (B.Sc.)

NC:

Qualification assessment process (no NC)

Type:

Bachelor of Science (B.Sc.)

NC:

No Admissions Restrictions

Type:

Bachelor of Arts (B.A.)

NC:

No Admissions Restrictions

Type:

Bachelor of Science (B.Sc.)

NC:

No Admissions Restrictions

Type:

Bachelor of Arts (B.A.)

NC:

No Admissions Restrictions

Type:

Bachelor of Science (B.Sc.)

NC:

No Admissions Restrictions

Type:

Bachelor of Arts (B.A.)

NC:

No Admissions Restrictions

Type:

Bachelor of Arts (B.A.)

NC:

No Admissions Restrictions

Type:

Bachelor of Science (B.Sc.)

NC:

No Admissions Restrictions

Type:

Bachelor of Science (B.Sc.)

NC:

No Admissions Restrictions

Type:

Bachelor of Science (B.Sc.)

NC:

No Admissions Restrictions

Type:

Bachelor of Science (B.Sc.)

NC:

No Admissions Restrictions

Type:

Bachelor of Arts (B.A.)

NC:

No Admissions Restrictions

Type:

Bachelor of Arts (B.A.)

NC:

No Admissions Restrictions

Type:

Bachelor of Arts (B.A.)

NC:

No Admissions Restrictions - Registration

Type:

Bachelor of Arts (B.A.)

NC:

No Admissions Restrictions - Registration

Type:

Bachelor of Science (B.Sc.)

NC:

No Admissions Restrictions - Registration

Type:

Bachelor of Science (B.Sc.)

NC:

No Admissions Restrictions

Type:

Bachelor of Arts (B.A.)

NC:

No Admissions Restrictions

Type:

Bachelor of Arts (B.A.)

NC:

No Admissions Restrictions

Type:

Bachelor of Arts (B.A.)

NC:

No Admissions Restrictions

Type:

Bachelor of Arts (B.A.)

NC:

No Admissions Restrictions

Type:

Bachelor of Arts (B.A.)

NC:

No Admissions Restrictions

Type:

Bachelor of Science (B.Sc.)

Location:

Erlangen, Nuremberg

NC:

No Admissions Restrictions - pre-study placement

Type:

Bachelor of Science (B.Sc.)

NC:

No Admissions Restrictions

Type:

Bachelor of Science (B.Sc.)

NC:

No Admissions Restrictions

Type:

Bachelor of Science (B.Sc.)

Location:

Erlangen, Nuremberg

NC:

No Admissions Restrictions

Type:

Bachelor of Science (B.Sc.)

NC:

No Admissions Restrictions - Registration

Type:

Bachelor of Science (B.Sc.)

Type:

Bachelor of Science (B.Sc.)

Type:

Bachelor of Science (B.Sc.)

Start:

Summer semester, Winter semester

Location:

Erlangen, Nuremberg

NC:

No Admissions Restrictions

Type:

Bachelor of Arts (B.A.)

NC:

No Admissions Restrictions

Type:

Bachelor of Arts (B.A.)

NC:

No Admissions Restrictions

Type:

Bachelor of Arts (B.A.)

NC:

No Admissions Restrictions

Type:

Bachelor of Arts (B.A.)

NC:

No Admissions Restrictions

Type:

Bachelor of Science (B.Sc.)

NC:

No Admissions Restrictions

Type:

Bachelor of Science (B.Sc.)

NC:

Qualification assessment process (no NC)

Type:

Bachelor of Science (B.Sc.)

NC:

No Admissions Restrictions

Type:

Bachelor of Science (B.Sc.)

NC:

No Admissions Restrictions

Type:

Bachelor of Science (B.Sc.)

NC:

No Admissions Restrictions

Type:

Bachelor of Science (B.Sc.)

NC:

No Admissions Restrictions - pre-study placement

Type:

Bachelor of Science (B.Sc.)

NC:

No Admissions Restrictions

Medical Engineering (B.Sc.)

Fields of study "Medical Electronics and Medical Image and Data Processing" or "Medical Production Engineering, Device Technology and Prosthetics".

Type:

Bachelor of Science (B.Sc.)

NC:

No Admissions Restrictions

Type:

Bachelor of Arts (B.A.)

NC:

No Admissions Restrictions

Type:

Bachelor of Science (B.Sc.)

NC:

Admission-free with admission requirements

Type:

Bachelor of Science (B.Sc.)

Type:

Bachelor of Science (B.Sc.)

NC:

No Admissions Restrictions

Type:

Bachelor of Science (B.Sc.)

NC:

No Admissions Restrictions

Type:

Bachelor of Arts (B.A.)

NC:

No Admissions Restrictions

Type:

Bachelor of Arts (B.A.)

NC:

No Admissions Restrictions

Type:

Bachelor of Science (B.Sc.)

NC:

No Admissions Restrictions

Type:

Bachelor of Arts (B.A.)

NC:

No Admissions Restrictions

Type:

Bachelor of Science (B.Sc.)

Type:

Bachelor of Arts (B.A.)

NC:

No Admissions Restrictions

Type:

Bachelor of Arts (B.A.)

NC:

No Admissions Restrictions

Type:

Bachelor of Arts (B.A.)

NC:

No Admissions Restrictions

Type:

Bachelor of Arts (B.A.)

NC:

No Admissions Restrictions

Type:

Bachelor of Arts (B.A.)

NC:

No Admissions Restrictions

Type:

Bachelor of Arts (B.A.)

NC:

No Admissions Restrictions