Dr. Jürgen Kleinöder, CIO
Chief Information Officer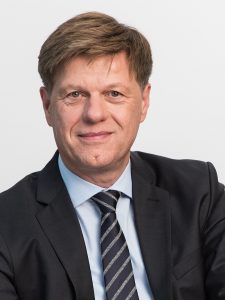 Dr.-Ing. Jürgen Kleinöder, CIO
Phone: +49 9131 8528028
Phone: +49 9131 8527227 (secretary)
juergen.kleinoeder@fau.de
Website: Chair of Computer Science 4 (Distributed Systems and Operating Systems)
CIO
The Chief Information Officer (CIO) at FAU is responsible for the strategic coordination of information and communications technology throughout the university (in accordance with Section 30 (5) of the BayHIG). The CIO acts as the co-ordinator of the CIO committee, oversees daily operations and represents the CIO committee with regard to the Executive Board and external organisations.
Curriculum vitae
Dr.-Ing. Jürgen Kleinöder, born in 1961, studied computer science and electronic engineering at FAU and completed his doctoral degree in 1992 with a thesis on the subject of storage management in open operating system architectures.
Dr. Kleinöder has been a research associate of the Department of Computer Science at FAU since 1987. During this time, he has been involved in many collaborative research projects relating to operating systems and distributed systems, often with key project management responsibilities. He has been a member of many major projects sponsored by the German Research Foundation and Federal Ministry of Education and Research, including SFB 182 "Multiprocessor and network configurations" and SFB/Transregio 89 "Invasive Computing" which he has supervised from 2010 to 2022.
From 1988, he was a founding member of the working group to establish a high-speed network for Bavarian universities (BHN), and in 1989 he became a founding member and representative of FAU in the planning group of the German National and Research Education Network. In 1989, he pioneered FAU's connection to the internet.
Since the mid 1990s, Dr. Kleinöder has been a member of many bodies within the Faculty of Engineering (faculty council, strategic committee, committee for the development of an online evaluation system, etc.) and the university (Senate, University Council and various committees). He has been Chair of the Council for Academic Staff from 2007 to 2017.
Within the German Informatics Society, he was speaker of the operating systems group and a member of the steering committee for computer engineering for many years.
He was appointed CIO of FAU in February 2016.
Further information:
CIO agreement (August 2016)